We've already been out to do our church visiting, so now we can turn our thoughts to things at home. After lunch, the kids are going to wash the car - it's an absolutely gorgeous day here - and I'm going to make 2 apple pies. I also have to get my Sunday school lesson ready. I piddle with it during the week, and Saturday always sneaks up on me. I'm going to have to incorporate lesson plans into my daily routines somehow, so that all I have to do on Saturday is look it over to make sure everything is ready.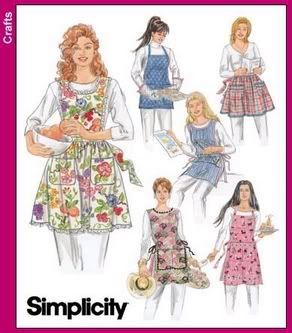 I cut out pattern pieces yesterday, so if I have some extra time today I may cut out an apron. I only have one apron, so I'd like to make 2 or 3 more to have throughout the week. This is the pattern I'm using; I'm making the full bib apron on the left.
So, that's the plan for today. Oh, yes - laundry too. Everybody must be extra dirty this week, because there seems to be more laundry than usual the past 2 days!